In the world of hospitality, the little things can make the biggest difference. Think about it:
The feel of soft bed sheets
The warmth of fluffy towels
The pristine look of table linens
These may seem like small details, but they're the unsung heroes of a great hotel stay. We all appreciate them, but have you ever wondered how they magically appear fresh and clean whenever you check into a hotel?
Today, we will explore the secret behind these comforts and how they turn an ordinary hotel stay into an unforgettable one. It all starts with something you might not think about often – hotel laundry service. Yes, you heard it right! This unassuming service ensures that your linens are soft, clean and perfectly presented, making your stay exceptional.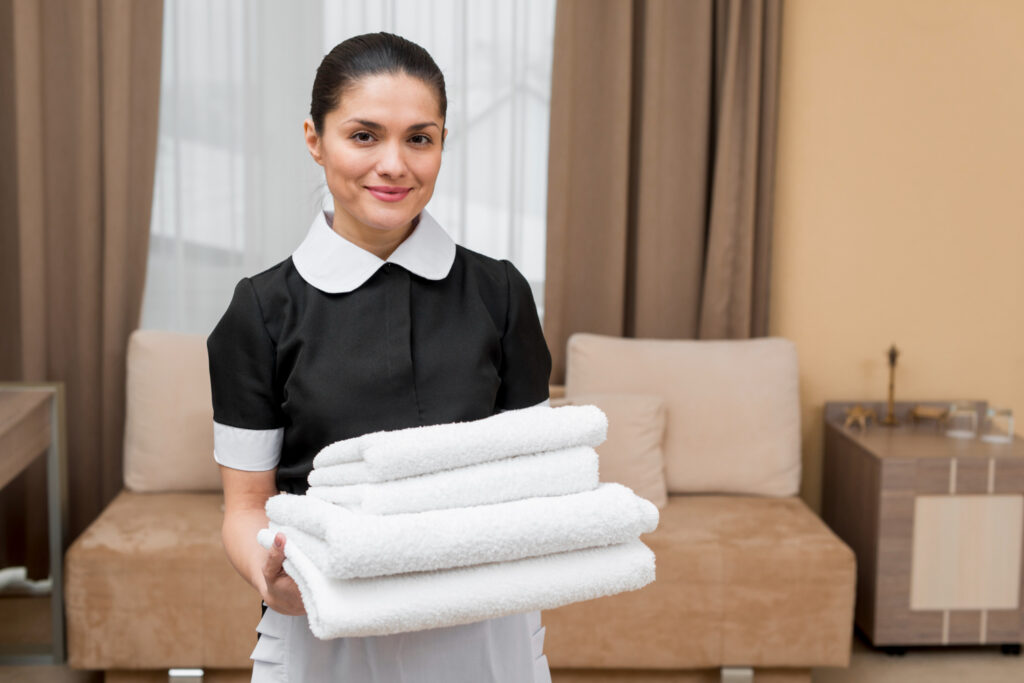 Why Top-Grade Linen Matters in Hotels
The bed sheets' softness, the towels' fluffiness and the table linens' crispness are not just extras but essential elements that contribute to a hotel guest's overall comfort and satisfaction. High-quality linens feel great and signify attention to detail, cleanliness and care. Let's break it down:
Durability: Quality linen stands the test of time and frequent washing, ensuring the hotel doesn't have to replace its linens frequently.
Comfort: Quality fabrics like Egyptian cotton offer unparalleled comfort, adding an extra layer of luxury to a guest's stay.
Aesthetic Appeal: Well-maintained linens in attractive designs contribute to the hotel's ambiance, complementing its interior decor.
How Superior Linens Affect Guest Perception
Imagine settling into your hotel bed in OKC after a long day of travel, and the sheets feel like sandpaper. Instant mood-killer, isn't it? The right linens can act as the cherry on top of an already pleasant experience, whereas poor-quality linens can become a deal-breaker. Here's why:
Enhanced Comfort: Soft, smooth linens allow guests to rest better, impacting their mood and overall impression of the hotel.
Perceived Value: Premium linens often make guests feel that their money is well-spent, improving customer satisfaction and encouraging return visits.
Word-of-mouth: Guests who experience exceptional comfort are more likely to recommend the hotel to others, creating valuable, organic marketing for the establishment.
Why Stellar Hotel Laundry Services are Non-Negotiable
Offering quality linen is one thing, but keeping them in top-notch condition is another. A reliable hotel laundry service ensures:
Sanitization: In today's health-conscious world, cleanliness is paramount. A trusted laundry service ensures linens are not only clean but sanitized.
Consistency: From crisp tablecloths to spotless towels, consistency in linen quality is maintained.
Efficiency: Timely and effective laundry services ensure that quality linens are always available, even during peak seasons or sudden surges in occupancy.
Your Roadmap to Linen Excellence
Ensuring an exceptional linen experience isn't difficult; it just requires the right focus and resources. To maintain a top-tier linen supply:
Prioritize Quality: Invest in linens made of high-grade materials.
Staff Training: Ensure that your housekeeping staff knows the best practices for linen care to extend longevity.
Outsourcing to Experts: Given the demands on hotels, outsourcing to a specialized hotellaundry service can be a wise decision.
By focusing on the quality of your linens and ensuring they are impeccably maintained, you are not just adding a luxury touch to your rooms; you're making a lasting impression on your guests. And in the highly competitive hospitality world, these finer details will set you apart. So, when planning your next steps in elevating your hotel experience, consider the crucial role that a superior hotel laundry service can play.
Experience the Royal Treatment for Your Linens
Ready to provide your guests with an unparalleled linen experience? Make the smart choice today! Contact KingSpin Laundry Service and let us transform your hotel's linens into the epitome of comfort and luxury. Elevate your guest experience with our top-notch hotel laundry service in OKC. Don't miss out on the opportunity to leave a lasting impression.
The Art of Hotel Linen Care: Elevate Your Experience
Looking to understand the potential of quality linen care in enhancing guest experiences? Read how hotel laundry service in OKC plays an essential role.