Ever been burdened with the task of washing heaps of linens after hosting guests in your Airbnb property? Think of the time and energy you could save, the other important tasks you could handle or simply relaxing, knowing that your linens are being taken care of. What if you had the help of a professional Airbnb laundry service to tackle this tedious task for you? Take a plunge into the blog to discover more.
Airbnb Laundry Service: The Game-Changer for Laundry Needs
Navigating the world of Airbnb hosting brings challenges, one major being laundry. A professional laundry service offers a seamless, professional solution.
Unshackle Yourself with Hassle-Free Cleaning
No more worrying about stains, sorting laundry or wasting valuable time on washing and drying. It's about handing over the responsibility to experts who handle it all, giving you the peace of mind to focus on what truly matters in your business.
Time is Money: Experience Faster Turnaround Time
Time is precious, especially when guests check in and out frequently. A proficient laundry service offers a faster turnaround time, ensuring your property is always ready to welcome new guests.
Pristine Perfection: The Highest Standard of Cleaning
Airbnb laundry service providers adhere to the highest cleaning standards, using specialized techniques and premium products. That ensures that every item is thoroughly cleaned, smells fresh and feels comfortable.
Personal Touch: Customized Cleaning Services Just for You
"Every Airbnb property is unique and so are its laundry needs." Be it delicate fabrics or specific cleaning requirements, a specialized laundry service tailors the service according to your needs. This customization ensures that every piece of fabric is treated with the care it needs, preserving its quality, appearance and lifespan.
From Expert Doors to Yours: Effortless Doorstep Delivery
The convenience of having your laundry picked up and delivered to your doorstep adds to the appeal of a reputable Airbnb laundry service. You no longer have to spend time driving to and from the laundry facility. Instead, a professional will collect the dirty linens and return them clean and neatly folded to your doorstep.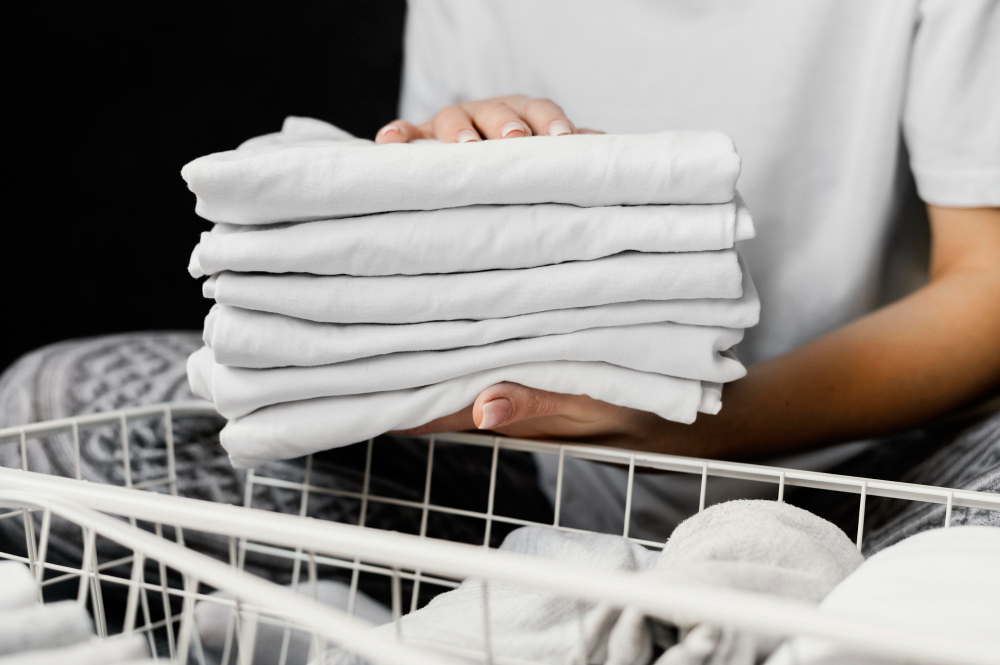 The Laundry List: What Can You Send?
Bed Linens: Easily send sheets, pillowcases and duvet covers, ensuring a comfortable sleep for your guests.
Towels: Bath, hand and face towels can be laundered to provide the fresh and plush experience your guests deserve.
Kitchen Linens: From napkins to tablecloths, your dining area can look impeccable with professionally cleaned kitchen linens.
Blanket & Comforters: Heavy or light, all blankets and comforters can be cleaned to perfection, offering a cozy feel.
Pillow Protectors & Mattresses: Ensure long-lasting freshness and hygiene by laundering pillow protectors and mattress covers.
Linen Rental Services: If you don't own specific linens, many laundry service providers offer rental options for top-quality products, delivering them cleaned and ready to use.
Step-by-Step Laundry Service: How Does It Function?
Schedule Your Pickup: Choose a pickup time that suits your schedule, often with same-day options. You must provide the exact address for pickup. If you have any particular requests or notes for the pickup, most services allow you to include these at this stage.
Professional Picking Your Laundry Bag: A trained professional arrives at the scheduled time to collect the laundry. Laundry is handled carefully to avoid any damages and items are properly sorted if needed.
Undergoing Cleaning: They sort laundry by type and inspect for stains or special care requirements. Based on the fabric type and customer preferences, experts apply a customized cleaning process using the best detergents and techniques. Post-cleaning, the items undergo a quality check to ensure they meet the highest cleaning standards. Then neatly folded and packaged items are ready for delivery, often with options for hangers or special packing if requested.
Doorstep Delivery: Many service providers offer flexible delivery options, allowing you to choose a time that fits your schedule. Whether it's back to the pickup location or somewhere new, delivery is sent to your specified address.
Experience Laundry Bliss with Our Exquisite Services
Make your hosting life more comfortable with King Spin Laundry Service. Click on our website to schedule your pickup today and give your guests the clean, crisp linens they deserve. Make a choice to simplify your life, save time and elevate your hosting standards. With our Airbnb laundry services, cleanliness is just a click away.