Let's face it; our clothes are an extension of our personality. In today's fast-paced world, it is imperative to present oneself immaculately. Whether preparing for an important interview or a gala event, the last thing you want to fret over is unkempt clothing. Harness the magic of dry cleaning! Elevate your wardrobe's appearance and make a statement. Discover why it is the genie you didn't know your closet needed, especially if you're in OKC. It's more than just a wash – it's an elixir for your attire.
Dry Cleaning: A Closer Look at the Process
Dry cleaning is a specialized process that uses solvents instead of water to cleanse fabrics.
The term "dry" stems from the absence of water, ensuring a gentler treatment than regular washing.
It's ideal for delicate fabrics and garments with intricate designs or embellishments.
The process begins by pre-treating stains and immersing the garments in a solvent. After cleaning, the solvent undergoes extraction and the clothes follow a drying cycle.
An array of chemicals become useful, the most common being perchloroethylene, which is highly effective at removing grease and oils.
Step into Luxury: Discover the Advantages of Dry Cleaning Services
Choosing a dry cleaning service offers a plethora of benefits that go beyond mere cleaning. From gentle care to longevity, it is an essential luxury for your highly-valued garments.
Gentle Care: Embrace the Benefits of Dry Cleaning
When you choose a dry cleaning method, you give your clothes the gift of gentle care. Typical washing methods involve using water and detergent, which can be abrasive and harsh on certain fabrics. No water is required; mild solvents lead the cleaning instead of harsh detergents. It ensures that delicate fibers do not face the wear and tear they may experience in a traditional washing machine. Moreover, this is particularly advantageous for clothes with embellishments or decorations, as they remain unscathed.
Exquisite Attention: Let Professionals Perfect the Cleaning Process
One of the perks of opting for this service is that your clothes are in the hands of experienced professionals. These experts have an in-depth understanding of different fabrics and the best practices for cleaning them. They know which solvents to use and how to remove stains without damaging the fabric. Furthermore, professionals are trained to spot small issues like missing buttons or loose threads and often provide minor repair services. They ensure that not only are your clothes clean, but they are also well-maintained and presentable.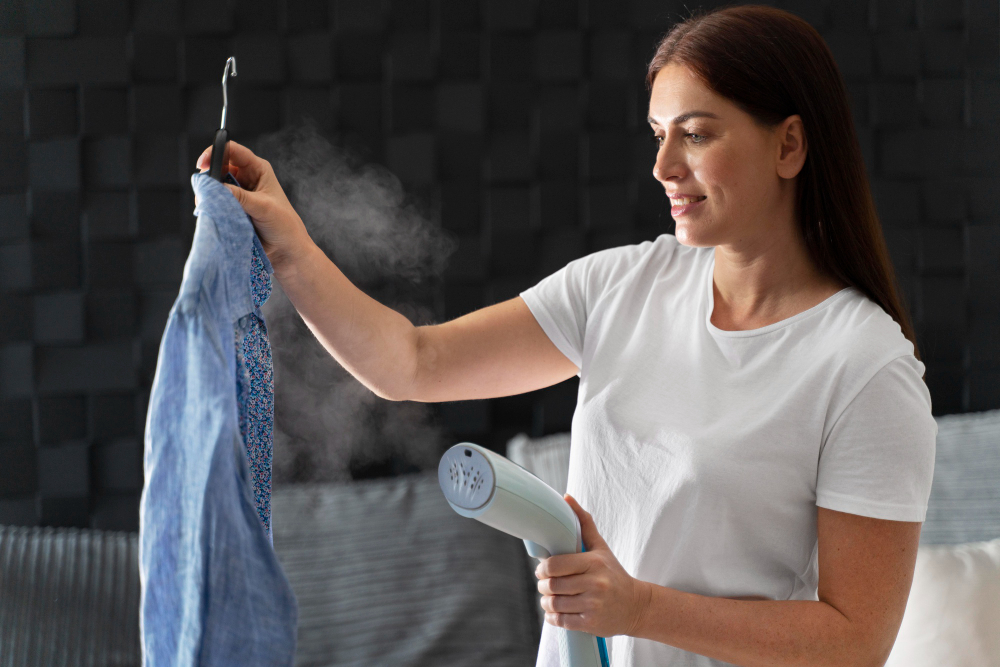 Odor and Stain Vanish: Experience the Magic
It is an excellent method for tackling stubborn stains and odors. Whether it's an old wine stain or the smell of smoke in your clothing, the cleaning solvents are powerful in breaking down the particles and substances that cause these issues. "Solvents penetrate deep into the fabric, effectively lifting stains and eliminating odors that regular washing may not remove." Your clothes come back not just spotless but smelling fresh and fragrant.
Handling with Ease: Cleaning Larger Items Made Effortless
Dry cleaning is not just for clothes. It's a miracle worker for larger items like bedding, drapes and winter coats. These bulky items are often too large for domestic washing machines or delicate to endure regular washing cycles. This method can efficiently handle these larger items, ensuring they are cleaned thoroughly without any damage. It saves you the hassle and worry of washing these bulky items at home.
Prolonged Perfection: Extend the Lifespan of Your Wardrobe
When your clothes undergo this cleaning process, they receive the blessings of a longer lifespan. Since the process is gentler than traditional washing, the fabric has less strain. That means your clothes are safe from excessive stretching, color fading and wear. Especially for high-end or delicate pieces, dry cleaning can be crucial in maintaining the garment's form and vibrance over time.
Green and Clean: Make the Eco-Friendly Choice
Dry cleaning service now offers green alternatives to traditional cleaning methods. These eco-friendly solvents are non-toxic and biodegradable, providing the same high-quality cleaning without the environmental toll. It allows you to maintain your clothes immaculately while making a conscious choice for the environment.
Experience the Clothing Transformation with Our Laundry Care
What are you waiting for? Give your clothes the royal treatment they deserve. Come, and entrust them to King Spin Laundry Service for dry cleaning in OKC– where each garment receives royal treatment. Step into the world of pristine clothing today.