As a business owner, it's essential to focus on your core competencies and delegate non-core tasks to others. One non-core task that can consume a lot of time and resources is laundry. It's the time spent doing laundry and the space and equipment required to do it properly. That is where outsourcing to a professional laundry service can come in handy. By entrusting your laundry needs to a reliable provider, you can free up valuable resources and focus on growing your business. Keep reading to learn about the benefits of outsourcing laundry to a professional provider and how it can help your business thrive.
Clean Clothes, Clear Mind: Demystifying Commercial Laundry Services
Commercial laundry service is a service that takes care of all of your laundry needs. That can include washing, drying, folding, and ironing clothes, linens, and towels. They can also provide pickup and delivery services, so you don't have to worry about transporting your laundry to and from the laundromat. It benefits businesses that generate a lot of laundries, such as hotels, hospitals, and restaurants.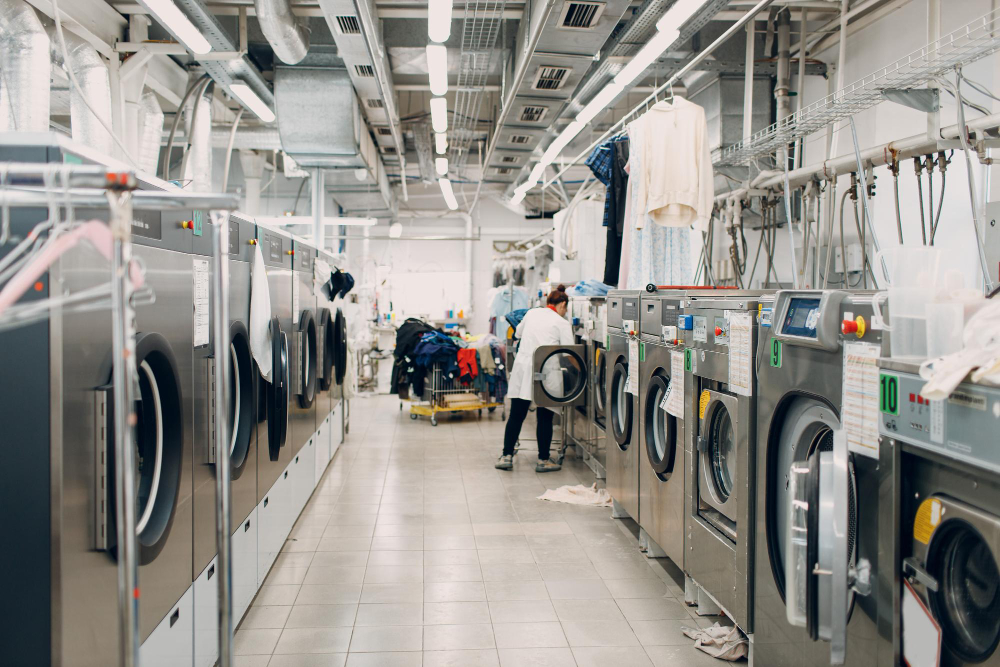 Laundry for All: Who Needs Commercial Laundry Services?
While any business can benefit from professional laundry service, some industries stand to gain more than others. For example, hotels and motels generate a lot of laundry from their guests and must ensure that their linens are always clean and fresh. Restaurants also generate a lot of laundries, from tablecloths to chef jackets. Hospitals and clinics also have a high demand for such services, as they must maintain cleanliness to prevent spreading infections.
The Bright Side of Laundry: Benefits You Can't Ignore
Now that we've covered what commercial laundry service is and which businesses should use it, let's dive into the benefits it can bring to your company.
Clean Space, Clear Mind: Repurposing Your Laundry Room
If you're currently doing your laundry in-house, you may be using valuable space that you can use for a better purpose. By outsourcing your laundry needs, you can free up space that you can use for other purposes, such as storage or additional workspace.
Suds Up, Productivity Up- Boosting Team Performance with Laundry Service
Your employees are the lifeblood of your business, and their productivity is essential to your success. By outsourcing your laundry needs, you can take one more task off their plates, which means they can focus on their primary job responsibilities. That can lead to a more productive team and a more successful business.
Stain-Free Success: The Professional Touch of Laundry Services
Such services are experts in their field, and they know how to get your laundry clean and fresh. They use high-quality detergents and equipment you may need access to in-house, which means your laundry will be cleaner than ever. That is especially important for businesses in the hospitality and healthcare industries, where cleanliness is paramount.
Save Your Money and Save Your Time: Cut Utility Costs
Running a washing machine and dryer can be expensive, especially if you're doing a lot of laundries. By outsourcing your laundry needs, you can save money on utility costs. You won't have to worry about the cost of running your machines or water and electricity.
Dirty Laundry or Dirty Looks? Boost Staff Loyalty
Providing your employee's clean uniforms, towels, and linens is a small gesture that can significantly boost staff loyalty. Employees who feel valued and cared for are more likely to be happy and productive. Plus, clean uniforms and linens can improve the overall image of your business, which can lead to increased customer loyalty.
Stop Spinning Your Wheels: Focus on Growth
Finally, outsourcing your laundry needs to a laundry service can free up time and energy that you can devote to other aspects of your business. Focusing on your core competencies allows you to grow your business and achieve your goals more quickly and effectively.
Regain Your Time and Refresh Your Space with KingSpin Laundry Services!
If you're looking for a reliable commercial laundry service in OKC, look at KingSpin Laundry Service.
With years of experience in the industry, we provide top-quality services to various businesses in the area.
We offer flexible scheduling, pickup and delivery services, and competitive pricing to make your laundry needs as easy and affordable as possible.
Don't let laundry be a burden on your business any longer. Let us take care of your laundry needs so you can focus on what matters most – growing your business. Contact us today to learn more about our services and how we can help you save time and money while maintaining a high level of cleanliness and professionalism in your business.