Welcome to the ultimate guide to making your Airbnb guests feel wrapped in luxury right from entering their cozy haven. As an Airbnb host, ensuring your linens' longevity and impeccable cleanliness is paramount. From the softest sheets to plush towels, these simple yet effective tips will help you keep your linens looking and feeling their best. Picture your guests relishing the comfort of fresh linens, and you're well on your way to earning rave reviews. Discover the unbeatable ally in your quest for pristine linens: the professional Airbnb laundry service. Let's dive in and unlock the secrets to linen care that will set your Airbnb apart.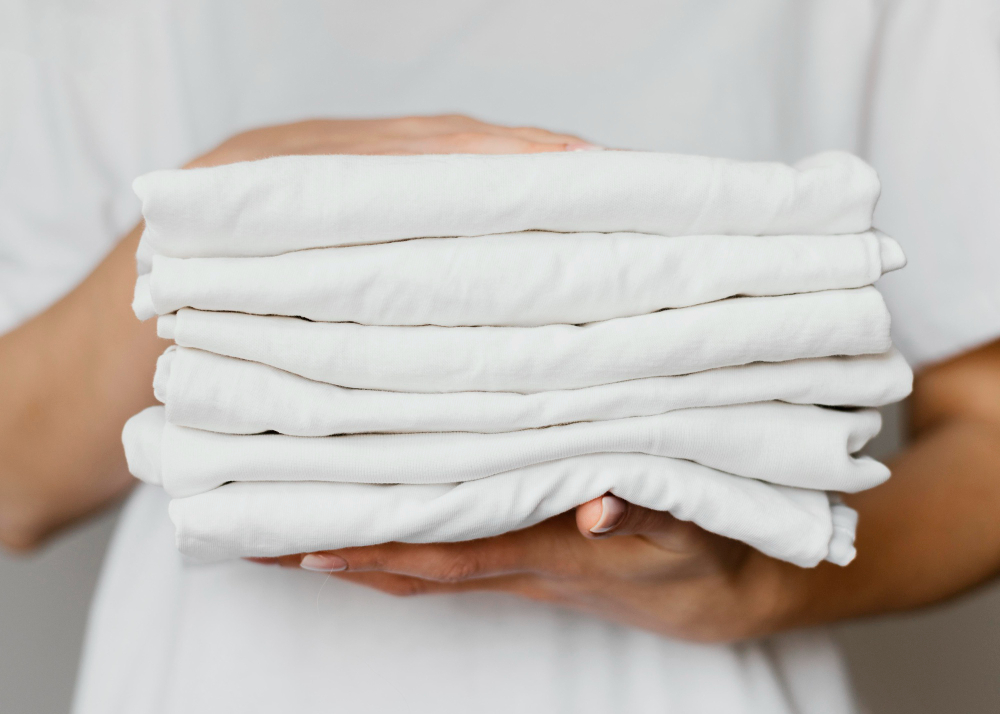 Linen Longevity Essentials: Simple Steps for Durable Fabrics
When it comes to linen care, the basics hold immense importance. Utilize these simple steps to extend the life of your Airbnb linens:
Water Temperature: Always wash your linens in cold water. Hot water can weaken fabric fibers and cause colors to fade more rapidly.
Mild Detergent: Opt for a mild, fabric-friendly detergent. Harsh detergents can lead to the breakdown of fibers over time.
Separate Your Loads: Make it a habit to separate whites from colors to prevent any cross-staining or color bleeding. The best way to get it right is by contacting Airbnb laundry services.
Bleach Precautions: While bleach can remove stubborn stains, its harshness can degrade the quality of your linens over time. Use it as a last resort, and sparingly.
Your Guide to Conquering Common Culprits
Stains are an inevitable part of hosting, but you don't have to let them spoil your linens:
Vanquish Coffee and Tea Stains: A mixture of vinegar and cold water works wonders for coffee or tea stains. Mix them equally and gently dab onto the stain using a clean cloth. After the treatment, wash the linen as you usually would.
The Wine Stain Warrior: Wine stains can be particularly difficult to remove. However, a generous amount of table salt can be your secret weapon. Sprinkle salt over the stain and let it sit for 10-15 minutes before washing.
Banish Makeup Stains Forever: For makeup stains, especially those from foundation or lipstick, rubbing alcohol is a powerful remedy. Apply a small amount to a clean cloth and rub gently in a circular motion to lighten the stain. Then, proceed to wash.
Smart Storage & Systematic Rotation
Airbnb laundry service suggests to further preserve your linens, effective storage and rotation practices are essential:
Storage: Store linens in a cool, dry place away from direct sunlight. Humidity and sunlight can cause colors to fade and fabric to weaken.
Rotation: Implement a linen rotation system, using different sets of beddings and towels for each new guest so that no particular set undergoes frequent wear and tear.
Why Airbnb Laundry Service is an Unbeatable Ally for Hosts
Here's why every Airbnb host should consider using a professional Airbnb laundry service:
Industrial-Grade Cleaning: These services use high-grade washing machines and specialized detergents optimized for fabric care.
Bulk Handling: Dealing with a large volume of linens can be time-consuming. Airbnb laundry companies can efficiently manage bulk laundry, freeing up your time.
Convenience: Most services offer pickup and delivery options, removing the logistics burden from your shoulders.
Eco-Friendly Options: If sustainability is a priority for you, many Airbnb laundry companies offer eco-friendly cleaning methods.
Investing in a reliable Airbnb laundry service elevates the guest experience, ensuring that every piece of linen is professionally cleaned, crisply folded and free of stains or odors.
Experience the Royal Treatment for Your Linens Today!
Ready to make your linens fit for royalty? Discover impeccable cleanliness and pristine freshness with KingSpin Laundry Service. Elevate your Airbnb hosting game and leave a lasting impression on your guests. Say goodbye to stains, laundry hassles and time-consuming chores. Let us take care of your linens so you can focus on creating unforgettable experiences for your guests. Get started and experience the regal difference in every sheet, towel and cloth with the best Airbnb laundry services.