Are you ready to pack away your seasonal wardrobe in OKC? Before you stow those clothes, consider this simple yet crucial step that can make a big difference. When you store your clothes, you want them to stay fresh and free from stains and odors, right? Dry cleaning is where the magic lies. This article will explore why this process is essential before storing your clothing in OKC. It's not just about cleanliness; it's about preserving your clothes and ensuring they're in top-notch condition when you need them again. So, let's dive into this important practice and discover why it's necessary for your wardrobe in OKC.
The Advantages of Pre-Storage Dry Cleaning
A Fresh Start for Your Clothes-Imagine pulling out your favorite white shirt from storage only to find a pesky yellow stain in the middle. Sound familiar? One of the most crucial reasons for dry cleaning your garments before storage is stain and odor elimination. Over time, visible and invisible stains can set into the fabric, becoming almost impossible to remove. It effectively tackles these stains, ensuring your clothes are fresh and ready to wear whenever you need them again.
Ensuring a Healthy Clothing Environment– When you store damp or dirty clothes, you invite mold and mildew to make themselves home. That not only creates a health hazard but can also cause irreparable damage to the fabric. Easy dry cleaning offers a preventative measure against this, eradicating moisture and creating an environment where mold and mildew cannot thrive. Particularly in humid places like OKC, this benefit is hard to overstate.
Your Investment Deserves Protection– We all have that special item in our closet that's more than just a piece of cloth—it's an investment. Dry cleaning your clothing before storage protects fabric integrity, ensuring the fibers maintain shape and texture. It's especially crucial for garments made from sensitive materials like silk, wool or a blend of natural and synthetic fibers.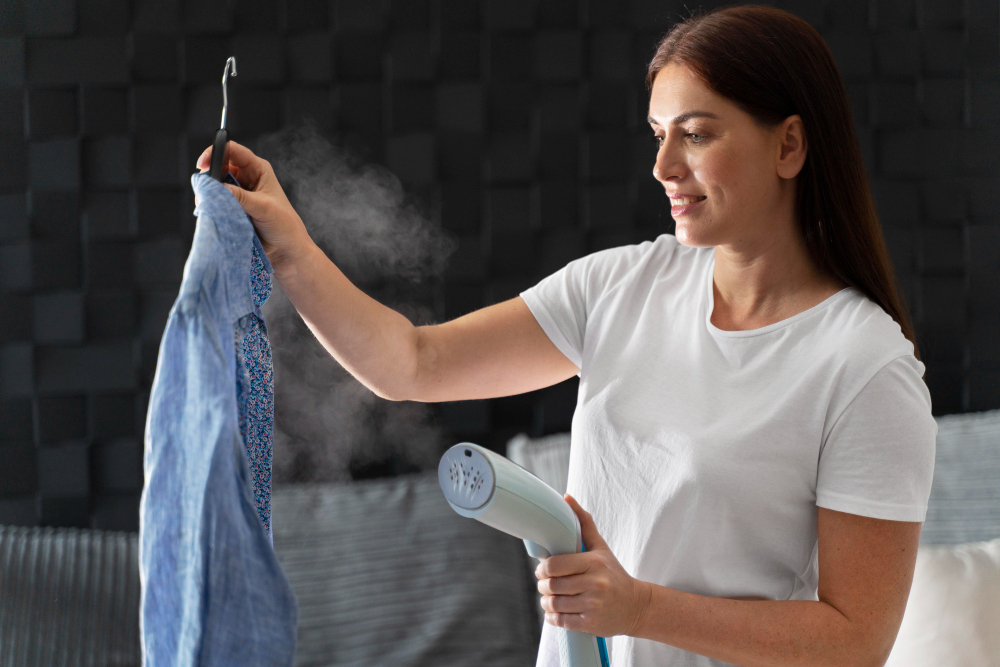 Expert Tips on Dry Cleaning for Long-Term Storage
How to Choose a Quality Dry Cleaner– Not all dry cleaning servicesare created equal. For the best results, look for a reputable dry cleaner in OKC specializing in garment preservation. Check online reviews, ask for recommendations and don't hesitate to inquire about their processes. After all, it's your clothing that's at stake here.
Communication is Key– When you drop off your clothes for dry cleaning, be explicit about your intentions to store them for an extended period. That allows the dry cleaner to use the most appropriate cleaning agents and techniques, ensuring maximum longevity and freshness for your garments.
The Right Way to Store Post-Dry Cleaning– The next step is proper storage once your clothes are freshly dry-cleaned. Choose a cool, dark place and use garment bags to protect against dust and insects. If you're storing clothes in a box, make sure it's made of acid-free paper to prevent any chemical reactions with the fabric. And remember, plastic containers may seem convenient but can trap moisture, so they're a big no-no for long-term storage.
Reignite Your Wardrobe's Brilliance with KingSpin!
At KingSpin Laundry Service, we're not just about clean clothes but about care, longevity and freshness. Experience the royal treatment your garments deserve. Trust us to make your clothes feel and look their best, whether you're storing them or planning your next outing. Our meticulous dry cleaning in OKC eliminates stains, odors and potential fabric damage, ensuring your wardrobe stays in top condition. Say goodbye to stains, odors and fabric woes. Elevate your wardrobe today!